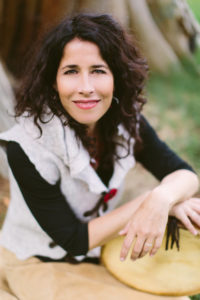 Andrea dedicates her life and work to promoting balance, reconciliation and unity among all nations. As an Indigenous woman who has honed her own voice, Andrea works to empower both the Indigenous and the Feminine voice by rematriating the larger culture. She leads others back to their authentic Self by singing uplifting songs, telling inspiring stories, teaching healing modalities, and providing wisdom from her ancestral teachers, the Patchwork Grandmothers.
Andrea's traditional Cree name is Notigwew Yutin, which means Grandmother Wind. She hails from the Metis Nation of Canada.
An accomplished Métis singer, songwriter, speaker and actress, Andrea Menard crosses cultural and language boundaries by speaking from her heart. She has released 4 award-winning albums and 2 made-for-television programs, debuted her own symphony show, spearheaded a positive music initiative called the Music Messengers, and has performed and spoken all over the world.
One of the stars of the Netflix series, Blackstone, Andrea is a five-time Gemini-nominated actress, a 15-time music award winner, and her TEDx Talk called Silent No More has reached over 100,000 views.
An advocate for reconciliation, unity and ending violence against women, Andrea has performed for Royalty, Prime Ministers, Governor-Generals, residential school Survivors, families of the missing and murdered Indigenous Women, and even sang her song "Peace" to the world's NATO Generals.