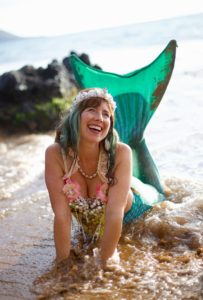 Mermaid Vyana (aka Heather Reynolds)
Vyana grew up in Tacoma, Washington, surrounded by the deep, cold, clear and mysterious Puget Sound.  As she learned to fish (catch and release) with her father from a canoe surrounded by seals, giant red octopus and orca whales, she longed for adventure in the bioluminescent gardens below the surface.   After learning to scuba dive, this quiet underwater garden felt more like home than land, but she didn't yet know why.
She loved the new perspective she gained from other creatures and cultures while living abroad in Istanbul, Paris and Okinawa, Japan.
Majoring in Anthropology and psychology, she eventually graduated with honors from Georgetown Law Center because she wanted to make a difference in the lives of women and girls internationally as an attorney.
She won national awards for her pro bono work in Washington, D.C., where she learned to write and pass Federal legislation.
But only after a little over a year of civil rights trial work in Oakland, California, she became disillusioned with the "justice" system and founded her own law firm (over 20 years ago) in the San Francisco Bay Area to empower people to stay out of the court system.
Her hope of a "top down" approach to social harmony (the law) failed because it did not heal the community, nor did it soften the hearts of those called racists or rapists.  In fact, those hearts hardened further and dug in their heals, albeit now out of view.
A "bottom-up" grassroots approach was the only hope she held to create real justice, so she began to teach women's self-defense.  She discovered that when women knew how to fight back, they seldom needed to.
Instead of focusing on the old social paradigm that wasn't working, she decided to create a new culture — one that "worked" — and to magnetize others to join her.  That meant giving up being a workaholic and learning to play again from her teachers, the wild Hawaiian Spinner Dolphins.
That's when she discovered a global mermaid movement where feminine beings were pushing the envelope of what was possible for humanity by embodying their own definitions of beauty, conscious culture, unlimited creativity, science with values, and symbiotic communion with the oceans and planet.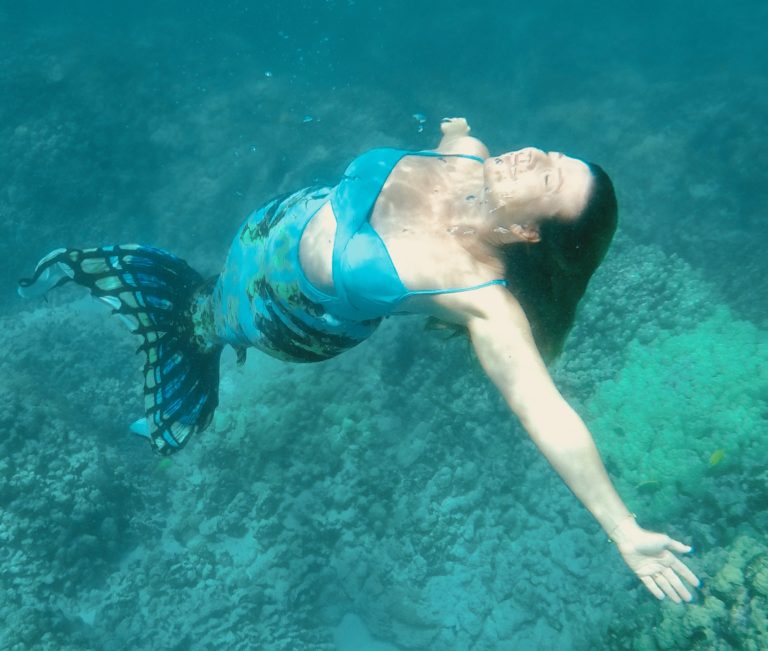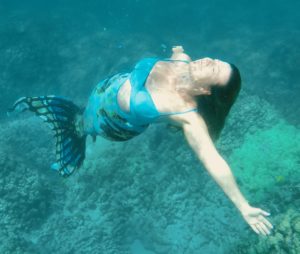 Vyana's exploration of the Divine Feminine has led her to play in the realm of the mermaid archetype for over 10 years with training from the 13 Moon Mystery School.  Supported by her spiritual community at the Sanctuary of the Open Heart, she created her first international mermaid retreat in Northern California in 2011, at Harbin Hot Springs, where she was a student of various water healing modalities.   The name Vyana is sanskrit for compassionate conscious touch (energy that flows from the heart).
In 2016, she decided to follow her dream of providing a sanctuary for those who desire to celebrate their most authentic selves, their innate gifts, and find more freedom by consciously creating their mythic lives.  Vyana moved to Kona, Hawai'i, and opened the first mermaid-themed B&B in the world with her husband, Bud.  It won "Best of the West, Hawaii" in 2017.
Her mermaid sanctuary provided the perfect healing space where Vyana could overcome her lifelong struggle with food addiction. She authored a 13 Step process which provides daily spiritual affirmations, nourishing wisdom & inspirational stories from a Divine Feminine lens. The program is not based on any religion, and Vyana considers herself a mystical free spirit.
Vyana is currently writing an oracle deck that honors the angelic art of Sulamith Wulfing.  She is happy to honor any faith, myth, religion, gender, race or story that "works" for humanity, the planet and its creatures, wholistically, as we evolve together.
Now a student of Hula, she has been given the Hawaiian name Wailele (waterfall) to honor her kuleana (responsibility) of pouring forth the refreshing sweet waters of life (knowledge, wisdom and insight) with freedom and limitless abundance.
Coming soon:  More retreats for personal discovery, mermaiding, water healing, the Divine Feminine, play, mythic storytelling, adventure and creativity.
What Ariel Spilsbury has to say about Vyana . . .
"Are you standing at a crossroads of desiring change in your life? In the Divine Feminine Mysteries there is a mythic figure called The Keeper of the Crossroads, who is a guide when pivotal choices and desire for change arise in our lives.  
Vyana (Heather Reynolds) is such a guide, who, through her life experience, has the clarity, compassion, wisdom and unconditional love, to offer profound insights as to how to navigate the deep waters of this kind of transformation.
I cannot deeply enough recommend this amazing being or the structure she has created to support you in your process of growth and change. She is a powerful Keeper of the Crossroads who holds the keys you have been awaiting! All you  have to do is open the door!" 
Ariel Spilsbury author of  The 13 Moon Oracle, The Mayan Oracle, The Alchemy of Ecstasy and Guidebook for a Modern Priestess and Gaia's New DreamCoat
Events with Vyana (Heather) Reynolds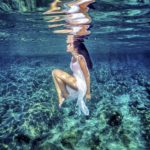 Custom Personal Retreats (7 nights or more) -- one-on-one with Mermaid Vyana
May 16, 2019
Come stay with us and experience tropical luxury in a Hawaiian oasis.  In between hosting group retreats, we open Mermaid Dreams to private individuals who seek to experience a personal retreat, one-on-one with Vyana.  Customize your week with sacred sites, soak in the real ALOHA of the Big Island, treat yourself to spa services in this watery temple of compassion.  Whether you are new to spirituality or seeking a deep initiation, the creative healing powers of this island will enchant you.   Call us directly at 808-649-9911 to find dates that work for you.   Start by booking your stay and then plan…