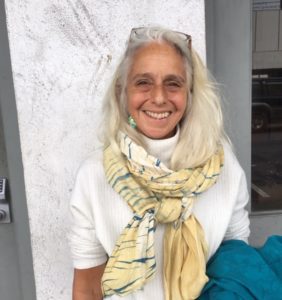 I am a friend of not knowing.  After 60 years I come to this question of Who am I?
With a full stop and appreciation for what is here… perhaps that is all.  Still Water Deep Water is a call to our human heart to listen.
It has been a dream of mine for nearly 20 years to combine water work with contemplative practice and to see, feel, experience who emerges from this exploration. You could say it is a deep dive within the silence and solitude that the human heart is intimate with.  My own journey as a therapist, educator, contemplative friend has led me now to simply ask honest questions into the great silence that connects all of us to each other.
I have lived here in the Big Island for 20 years and now enjoy the Hamakua Coast as home base.  I am a Ho'oponopono student of Uncle Howard Pe'a with Inika Spence-Whaley for the last 3 years.  This practice has deeply affected my way of being with my own humanity.