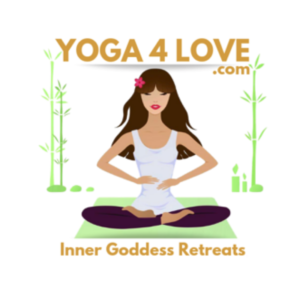 Lisa Ware is the Executive Director of Yoga 4 Love Online Certification, and Inner Goddess Retreats in Texas and Hawaii. She is a life coach, Shamanic Practitioner, a Reiki Master Teacher and a published author of the book: Yoga 4 Love, Tools for Mind, Body and Spirit: For a Holistic Lifestyle. In 2008 she founded Yoga4Love.com in honor of her mom's positivity and inspiration through her breast cancer journey. She is a seasoned national yoga conference presenter, lecturer and has taught over 8K hours of vinyasa yoga. Lisa is the current President of the DFW Free Day of Yoga a 501c3 non-profit; she has been on the Board of Directors since 2008.
Lisa's 'why' is to empower women to find their passion, purpose and potential in the world so that together we may live a life of health and financial freedom, adventure, joy and magick! She loves her horses and dogs, doing Angel card readings and Reiki, teaching her online trainees, writing and streaming live on YouTube, as well on her vlog: Lisa Ware Yoga 4 Love Channel. She is a mom of two, her son, 21, is active duty in the Navy as a Nuclear Engineer Operator, and her daughter, 16, is a fun-loving athlete and budding yogini. She's a happy wife, married to Richard since 1992. Together they teach workshops on Acro Yoga, aerial/tree yoga and Thai Bodywork.
Lisa's life work is to leave a legacy, impacting the world through traditional yogic teachings in the energy work of the 21st Century Goddess, to help others Awaken and bring forth their tools to raise the frequency of the planet, our Mother, Gaia.
Connect:
@yoga4lovelisa
www.yoga4love.com
Events with Lisa Ware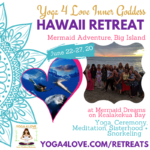 Inner Goddess Retreats: Yoga 4 Love Mermaid Adventure Hawai'i
June 27, 2021
Book now for our Hawaiian Mermaid Retreat ($1995 plus lodging of your choice)!  7 nights / 8 days Ocean swims daily on the reef at Kealakekua Bay, Big Island, Hawai'i, in the most magical vortex on the planet! Dolphin swims and coral reef snorkeling, or lay out in the sun or chill in the gentle tide pools. Delicious organic breakfasts, and 4 fully catered locally chef-prepared vegetarian lunches. Experience the breathtaking Kona Coast with sunset dinners out at the local restaurants right on the ocean. Yoga is an ancient practice of mind, body, and spirit. Come, answer the call to…