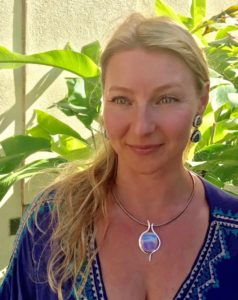 Kristin Taylor aka Koré has cultivated her innate gifts to be an embodied conduit of loving compassion and wisdom for the benefit and evolution of all beings including herself. She recognized early on that developing an intimate relationship with our essential self is pivotal to enjoying a balanced, fulfilling and fluid life.
Once we remember our true nature as love and actively surrender our small/ego selves we open to a path of remembrance and liberation. Revealing to us Mythic and Archetypal lineages that were always there waiting to be embodied and expressed.
In her mid-teens, she began to lucid dream. One dream, in particular, she was taken directly into her heart to bear witness to the immense and transformative healing power of unconditional love and compassion. In the same dream she was then given exquisite and detailed scrolls that contained templates of the various meridians, energetic fields, nervous and blood pathways of the human body. This dream continues to inspire and play an integral part in her life.
Throughout her life, she has had the support and benefit of studying with many esteemed mentors of various spiritual and mystic traditions.
She literally followed her dreams to the paradisiacal island of Maui, Hawaii. In a series of synchronicities of mythic proportions, she met Ariel Spilsbury and The Divine Cosmic Circus. Meeting this merry band of mischief-makers and growth edge takers put her personal evolution into warp drive!
She took in-depth years-long apprenticeships with Ariel Spilsbury, founder of The Sanctuary of the Open Heart. Diving into wisdom traditions through feminine lensing of consciousness and became an ordained instructor/ wisdom keeper of The 13 Moon Mystery School. Kristin Koré has co-facilitated dozens of workshops and personal initiations with Ariel.
On Maui she continued to refine her innate healing abilities, and completed her certification as a Thai Massage Bodyworker, is one of the original co-founders of Organic Laughter and The Pono Players, both improv comedy troupes. She studied Alignment based yoga with Iyengar certified instructor Deni Roman and has been an instructor with The Maui Yoga Path going on seven years. One of her great passions she discovered while on Maui was dance and her abilities flourished.
The depth of presence she brought forth as she danced what she considered fluid prayer offerings are charged with archetypal energy. Her dances offer remarkable improvisational transmissions that transformed and delighted those watching. The dream she received as a young girl, now felt integrated and embodied.
Recently she was inspired to study with Diana Dubrow, founder of The Emerald Temple in Penngrove California. Diana's temple is dedicated to the beautiful and ancient practice of healing with the use of sacred oils to anoint and consecrate the body.
Kristin Koré joyfully weaves all she has cultivated thus far so she may support and nourish you on your journey of self-liberation, self-love, and discovery.