Introduction to Healing Dance in Hawai'i
With Claire Muskopf
March 12 - 14, 2020
If you glimpsed into this magnificent world of aquatic bodywork as a witness or receiver, imagine what it would be like to step inside that role as a giver with experienced guidance and support. Allowing you to walk away with a solid foundation of skills in a delightful way to be in the water with others.
Introduction to Healing Dance® is a 16 hour weekend course designed for entry-level students of aquatic bodywork.  If you won't be staying at Mermaid Dreams overnight, then choose "Day-use only" for lodging.  The tuition is $300.  The facility fee is $99.  Together, the total is $399 plus accommodations of your choice.
The history, principles and applications of Healing Dance are covered on land, as well as terminology, communication, and the anatomy related to support of the head and pelvis. In the water, you will be given a direct experience of Healing Dance through receiving a mini-session. There the fundamentals of aquatic technique are taught, including how to sense the weight and breath of the receiver, knowing where to support, how to traction, how to be grounded in the stances that we stand in and how to bring our partner into flow with weight shifts and traveling steps. A simple practice sequence is learned with a clear beginning and finish that is the perfect preparation for taking Healing Dance I. You will discover how natural it is to share aquatic bodywork and how it can open a new dimension in relating. A written and photo manual are provided and a DVD and MP4 of the sequence are made available.
Learning to support someone in the water in this way is a deeply powerful way to connect to oneself and your receiver.
No prerequisites required for this course, however, THIS COURSE is a prerequisite for all other Healing Dance courses.
Leader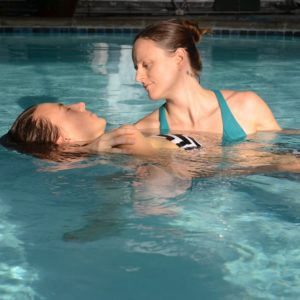 Claire Muskopf
Claire Muskopf learned to swim before she learned to walk. Water unified and permeated most of her life. Aquatic bodywork has beautifully reconnected dance and that love of the water for her since 2007. Claire deepened her knowledge through her trainings, in Healing Dance, WaterDance, Esalen Massage and Fluid Presence. Displaced from being a Healing Dance practitioner at Harbin Hot Springs, Claire is based in Hawaii where the ocean is a constant comforting and healing presence. Part mermaid, she has been known to say, "if I only had gills, I'd never get out of the water." The fluidity of the…
Learn more about Claire Muskopf