Inner Goddess Retreats: Yoga 4 Love Mermaid Adventure Hawai'i
With Lisa Ware
June 22 - 27, 2020
Book now for our Hawaiian Mermaid Yoga Retreat
($1995 plus lodging of your choice)
5 nights / 6 days
Swim and snorkel in Hawaii's beautiful reefs.

Stay just minutes from Kealakekua Bay, The Gateway to the Gods, where the Spinner dolphins live.

Yoga and sunrise meditation daily.

Includes luxurious daily brunch with fresh Hawaiian fruits', Kona coffee, tea and local honey.

Select your lunches from local artisan restaurants.

Experience the breathtaking Kona Coast sunsets with dinners out at local restaurants, most of which are right on the ocean!

Experience Reiki and crystal healing, ceremony, drum circles and so much Transformation!!!
Practice respectfully interacting with nature, the native dolphins, the reef, the fish and the ocean environment. Lay out in the sun or just chill in the gentle tide pools.
Take optional excursions into town to take a honey or coffee tour, get some famous Kona Coffee and gelato. Jump in the car and travel to the some of the sacred sites on the Big Island…or just chill on the lanai or read by the pool.
Yoga is an ancient practice of mind, body, and spirit. Come, connect with your Inner Goddess in the jungle of Hawai'i. Answer the call to experience magick, renewal, refreshment and community. Enjoy workshops on Reiki, Goddess Archetypes, sit in sacred circle, connect with the Divine Feminine and learn how to practice Energy Work.
Forge lifetime connections with the Goddess tribe sisterhood.
Attention all MERMAIDS or Mer-Curious:
You will have an option to swim with a REAL MERMAID, Vyana, and even rent your own mermaid tail! On retreat you can book your group mermaid pool swim, or if you are an experienced ocean swimmer you may be part of a guided select private group who will swim the open ocean in your tail. The spinner dolphins just may want to come to play, as the Bay is their home!
What's Included:
Double or Triple Room accommodations,

Retreat schedule

Luxurious daily brunch with fresh Hawaiian fruits, Kona coffee and tea

Workshops and community circles.

Plenty of time to relax.

Ride shares to local excursions.

Lovely Goddess Goodie Bag

Snorkeling Gear from Mermaid Dreams (Yea!)
Not Included:
Flight

Ground Transportation (if you are renting a car let host know)

Costs for optional outings (nominal park entrance fees)

Ride share gas/ fuel donations for drivers with a rental car

Meals at Restaurants

Souvenirs

Rentals
Hosted and Facilitated by Lisa Ware, Visionary Vixen, Inner Goddess Retreats and Yoga 4 Love Online Training Certifications.
Lodging Host and mermaid: Vyana Reynolds, owner of Mermaid Dreams Sanctuary.
Mermaid Dreams Amenities include:
Large heated pool (94 degrees)
Lanai with fire pit
Tiki Bar for mocktails
Yoga Mats
Yoga Blocks
Backjacks
Fairy garden with singing orchid
Goddess & mermaid library
Musical instruments
A lovely tropical covered and screened yoga deck.
Bamboo sheets, beach towels, robes, slippers and Seaweed Bath Co. toiletries
Enjoy fruit from the gardens, a healing gazebo, an outdoor shower,
free wifi, and an art room.
What else do I need to know?
We are creating a Sacred space of sanctuary, luxury, clean eating. Therefore we are an alcohol-free retreat and do not have any children present. Nursing moms with babies (non-walkers) and teens 18+ are welcome.
Local Hawaiian discount:  Special Package (no lodging) if you are not staying on site and want to attend the retreat!
Payment plans : Deposit due upon booking. Payment is due every month thereafter, broken into equal payments. Balance due in full 90 days before event begins.
OPTIONAL ADD ON:
Join Lisa Ware for up to 4 nights, 5 extra days! Travel 30 minutes North into Kona for a luxurious stay at the 5 star Hilton King's Land Waikaloa Village!
Contact us to add this booking onto your Mermaid Dreams Hawaiian Adventure.
If you are renting a car we will be setting up a ride share schedule for excursions.
Learn more & book a Discovery Chat now with Lisa Ware Yoga 4 Love:
Or email us:
Retreat Cancellation Policy:
Leader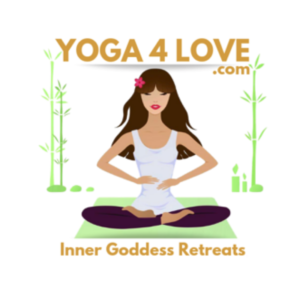 Lisa Ware
Lisa Ware is the Executive Director of Yoga 4 Love Online Certification, and Inner Goddess Retreats in Texas and Hawaii. She is a life coach, Shamanic Practitioner, a Reiki Master Teacher and a published author of the book: Yoga 4 Love, Tools for Mind, Body and Spirit: For a Holistic Lifestyle. In 2008 she founded Yoga4Love.com in honor of her mom's positivity and inspiration through her breast cancer journey. She is a seasoned national yoga conference presenter, lecturer and has taught over 8K hours of vinyasa yoga. Lisa is the current President of the DFW Free Day of Yoga a…
Learn more about Lisa Ware